Hot sales Pneumatic Roller Vibrator OR50/OR65 Model
Product name : Hot sales Pneumatic Roller Vibrator OR50/OR65 Model
Model No. : 002
Products Category: > Pneumatic Vibrator > R Series Pneumatic Roller Vibrator
Specifications
(1)Ball-type pneumatic vibrator for hopper
(2)vibration feeder
(3)electric concrete vibrator
(4)R50 to R100
We will give you a reply within 24 hours after receiving your message.
R100 Ball-type pneumatic vibrator for hopper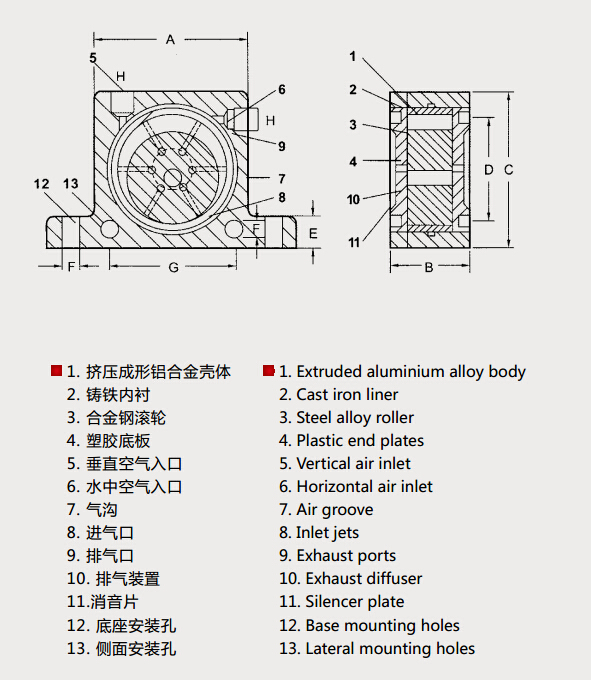 Maximum temperature: 140 degrees centigrade
Noise level range: 75-100dBA

Description:
These compact pneumatic vibrators are simple in design, but is capable of delivering very high centrifugal forces.
The body is machined from an extruded aluminium section, inside of which a precision steel roller rotates,it is retained by two special high impact plastic end plates.
Application:
Used for hoppers, agitation of small particles, moving of fine powders, compaction of plastic and concrete in moulds,etc.
Parameter:
Model

Frequency(V.P.M)

Vibration power

Air consumption

0.2 Mpa

0.4Mpa

0.6Mpa

0.2Mpa

0.4Mpa

0.6Mpa

0.2Mpa

0.4Mpa

0.6Mpa

N

N

N

L/min

L/min

L/min

R-50

25.150

35.150

36.150

1.175

2.955

4.255

1.550

1.450

1.950

R-65

19.150

21.150

16.150

2.755

4.855

6.155

2.150

3.100

4.150

R-80

15.650

18.650

19.150

3.150

6.125

7.450

4.500

4.350

5.750

R-100

11.050

14.150

15.150

3.765

6.750

8.955

5.600

5.550

7.350

R-120

10.150

11.650

12.650

8.150

10.150

12.510

7.350

7.350

9.750
Dimension: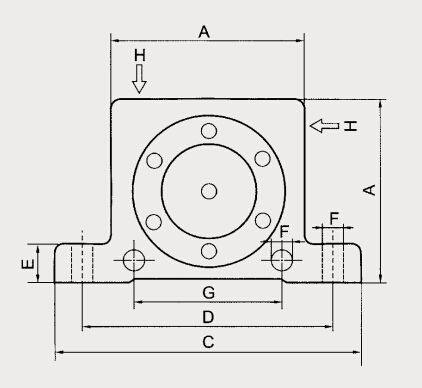 Model

A

Width

C

D

E

F

G

H

Weight

mm

mm

mm

mm

mm

mm

mm

Thread

kg

lbs

R-50

50

29

86

68

12

7

40

1/8"

0.245

0.55

R-65

62

37

113

90

16

9

50

1/4"

0.540

1.25

R-80

80

43

128

104

16

9

60

1/4"

0.955

2.20

R-100

100

52

160

130

20

11

80

3/8"

1.815

4.10

R-120

120

77

194

152

24

17

3/8"

4.265

9.45
Send Inquiry :
Contact Us
Name: Abby Luo
Tel: 86-057487623208
Fax: +86-057458109272
Mobile: +86-13616805768
E-mail: info@china-pneumatic-vibrators.com
Add: QiHu Country. GaoQiao Town.YinZhou. Ningbo City, Zhejiang Province, China
Whatsapp: 13616805768
Skype: abby8678

Welcome to HonHai Vibrators company .We are china best factory so far . All products sales many country and got high repution . Any question, Please do not hesiteta contact with us. We will try our best service for you
sales@hydro-pneumatic.com
info@china-pneumatic-vibrators.com